It is said that shrines offer a variety of benefits. Well-known and famous shrines are good, but why not visit a unique shrine with pinpoint benefits?
In this issue, we will introduce shrines in Osaka and Kyoto that are associated with the body.
Will God stop my toothache? Tooth Shrine
The Tooth Shrine is located near HEP FIVE, a landmark of Umeda, Osaka, famous for its red Ferris wheel. It is a shrine for "teeth," a rarity in Japan.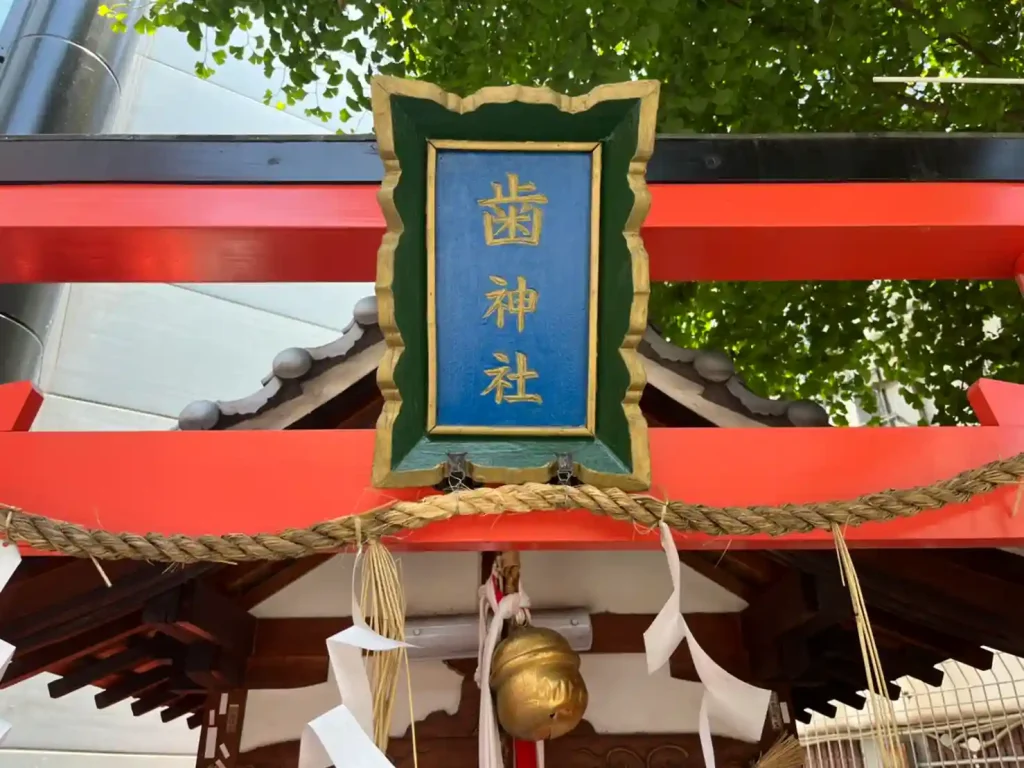 Originally, it was an Inari shrine that enshrined a giant stone as its sacred body. Several hundred years ago, when the Umeda area was hit by a great flood, the giant stone stopped the water from flowing in and prevented Umeda from being submerged, and thus became popularly known as the god of halt. The shrine became known as the "Tooth Shrine" because of its role in preventing toothaches.
The "Nade-ishi" stone is located in front of the main shrine building. It is said that if you stroke this stone, which is also said to be a piece of the sacred giant stone, and then stroke the painful part of your tooth, the pain will be removed.
We constantly receive worshippers from all over the country, including those suffering from dental problems, those involved in dental care, students aspiring to become dentists, and those who work with toothbrushes, toothpaste, and other tooth-related products.
It is a very small shrine with a torii gate, a small shrine, and a sacred tree in a small space along the road, so there are no amulets or sacred fuda given here.
It can be awarded at Tsunashiki Tenjinsha Otabisha, a 5-minute walk away. Go there after paying a visit to the Tooth Shrine.
They receive inquiries from all over the country, including those who suffer from dental problems and those who work in the dental field.
Let's pray for your dental health to the god of teeth, the only one in Japan!
LOCATION INFORMATION
Address
2-8, Kakuda-cho, Kita-ku, Osaka
Access
3-minute walk from Hankyu Osaka-umeda Station
8-minute walk from Hanshin Osaka-Umeda Station
LOCATION INFORMATION
Address
12, Chayamachi, Kita-ku, Osaka
Access
2-minute walk from Hankyu Osaka-umeda Station
10-minute walk from Hanshin Osaka-Umeda Station
The only hair shrine in Japan  Mikami-jinja Shrine
Mikami-jinja Shrine in Saga, Kyoto is the only shrine in Japan that grants wishes regarding hair. The shrine was founded by Kyoto barbers and hairdressers and is dedicated to Masayuki Uneme no Suke Fujiwara, a Japanese hairdresser who is said to have been active as a hairdresser in Japan.
It is located on the banks of Ogura Pond after passing through the famous Arashiyama bamboo grove path to the Trolley Arashiyama Station.
At Mikami-jinja Shrine, there is a special way to visit the shrine. It is called "kenpatsu" (hair offering). It is said that if you have a priest cut off a small piece of your hair, place it in a bag marked "Gohairi-ono-ni" and dedicate it to the shrine, you will receive a blessing.
Not only people with hair problems but also those who want to keep their hair beautiful and those who work in the beauty industry visit the shrine. There are a variety of charms, including the uniquely named "Fusafusa-mamori" and the comb-shaped "Ogushi-mamori".
"Takumi Mamoru" is a popular good luck charm for hair stylists. It has a scissors motif and comes in a cosmetic box. It is also an ideal gift.
The ema of the Mikami-jinja Shrine is in the shape of a comb with a woman with beautiful hair. Many people pray on the ema not only for wishes related to hair, but also for success in the national examinations for hairdressers and barbers, and for stylists and beauticians to improve their skills.
Why not stretch your legs when you come to Arashiyama?
LOCATION INFORMATION
Address
10-2, Sagaogurayama Tabuchiyama-cho, Ukyo-ku, Kyoto
Access
30-minute walk from Hankyu Arashiyama Line Arashiyama Station
Wild boars protect the health of the legs and feet Goou Jinja Shinto Shrine
Goou Jinja Shinto Shrine is located on the west side of the Kyoto Imperial Palace. The shrine is dedicated to Wake no Kiyomaro, who contributed to the construction of Heian-kyo.
The shrine is also known as the "Wild Boar Shrine" because of the many motifs of wild boars throughout the shrine grounds. The connection between Goou Jinja Shinto Shrine and wild boars is found in an episode in which 300 wild boars saved Kiyomaro from difficulties. At that time, Kiyomaro's injured leg also recovered, and he came to be worshipped as a god to protect his legs and feet.
The "Monument for the Recovery of Ashinae Difficulties," located next to the main shrine, is visited by many worshippers who wish for good health of their feet and legs. They pray by climbing on the foot-shaped stone or rubbing the monument. The prayer stand at the base of the sacred tree is a unique wish form of this shrine, where visitors write their names and wishes on a paper tag.
The amulet protecting the health of your feet and legs is designed in the shape of a footprint. Take home the blessings of Goou Jinja Shinto Shrine. Many people give them to family and friends who play sports.
Please be sure to draw a wild boar omikuji here as well. Each one has a different face, and each one has a different atmosphere. The boar has a fortune inside.
Note the hand-watering basin on the right as soon as you enter the temple grounds. It is said that if you stroke the nose of the bronze boar, good luck will come to you.
Please visit Goou Jinja Shinto Shrine, the most famous shrine in Kyoto for the healing of illnesses and injuries of the legs and feet.
LOCATION INFORMATION
Address
385, Sakurazuruen-cho, Shimochojamachi-sagaru, Karasuma-dori, Kamigyo-ku, Kyoto
Access
Take the Kyoto Municipal Subway from Hankyu Kyoto Line Karasuma Station and alight at Marutamachi Station and 7-minute walk.
How was it?
We introduced some unusual shrines in Osaka and Kyoto. It is best to keep your teeth, hair, and legs healthy. Let's visit each of these shrines and pray!