START
9:30
Hankyu Arashiyama station
9:40
Arashiyama Park (Nakanoshima area) - Togetsu Bridge
Arashiyama Park (Nakanoshima area) - Togetsu Bridge
Take a stroll in Arashiyama Park along the Katsura River and enjoy the view of the Wataratsuki Bridge, the symbol of Arashiyama. Wataratsukibashi Bridge, named after the moon crossing the sky, has an impressive wooden parapet designed to blend in with the beauty of nature. Cross the 155-meter-long bridge to the area where the tourist attractions are concentrated.
9:55
Arashiyama Park (Nakanoshima area) - Togetsu Bridge
10:00
Mamemono and Taiyaki Arashiyama Store
Mamemono and Taiyaki Arashiyama Store
A taiyaki store that bakes dough upon order, giving the taiyaki a light and fluffy texture. It is located on the first floor of Arashiyama Shoryuen, a commercial facility where Kyoto's representative long-established shops are gathered. The most popular taiyaki, an-butter taiyaki, is a must-try! The freshly made taiyaki is sandwiched between fresh butter and has a "best before" date of one minute.
10:35
Mamemono and Taiyaki Arashiyama Store
Tenryu-ji Temple
One of Kyoto's representative temples, it is registered as a World Heritage site. Visitors can enjoy the magnificent scenery from the circular garden centering on Sogen Pond, designated as a Special Place of Scenic Beauty. The dragon depicted in the cloud-and-dragon painting on the ceiling of the Dharma Hall is said to meet the eye from every angle. Please come and experience this mystical phenomenon.
Yudofu Sagano
For lunch, try Kyoto's unique yudofu. We recommend the "Yudofu Set Meal" which uses traditional Saga Tofu and combines it with a small bowl of Kyoto-style dishes. The restaurant features pure Japanese architecture in a neat sukiya style, and the tatami room overlooks a Japanese garden. The rooms in the tatami room overlook a Japanese garden and are decorated with hanging scrolls and tableware, creating a rich Japanese atmosphere.
Bamboo Grove
This is a representative sightseeing spot of Arashiyama. The promenade has a solemn atmosphere with its rows of overgrown bamboos covering the sky. Take a leisurely stroll through this area, which was once a villa for aristocrats in the Heian period, and enjoy a special moment to feel the beauty of nature through the sunlight filtering through the trees and the sound of leaves rustling in the air.
Jojakko-ji Temple
This temple is located halfway up Mt. Ogura, known for the "Hyakunin Isshu" . It is said that the villa of the poet Fujiwara no Teika once stood here. After passing through the Niomon Gate built in the Nanbokucho Period (14th century) and going up the stone steps, you will see the main hall, which is a reconstruction of the guest hall of Fushimi Castle, and behind it stands a beautifully proportioned pagoda with a panoramic view of the Sagano area.
Nison-in Temple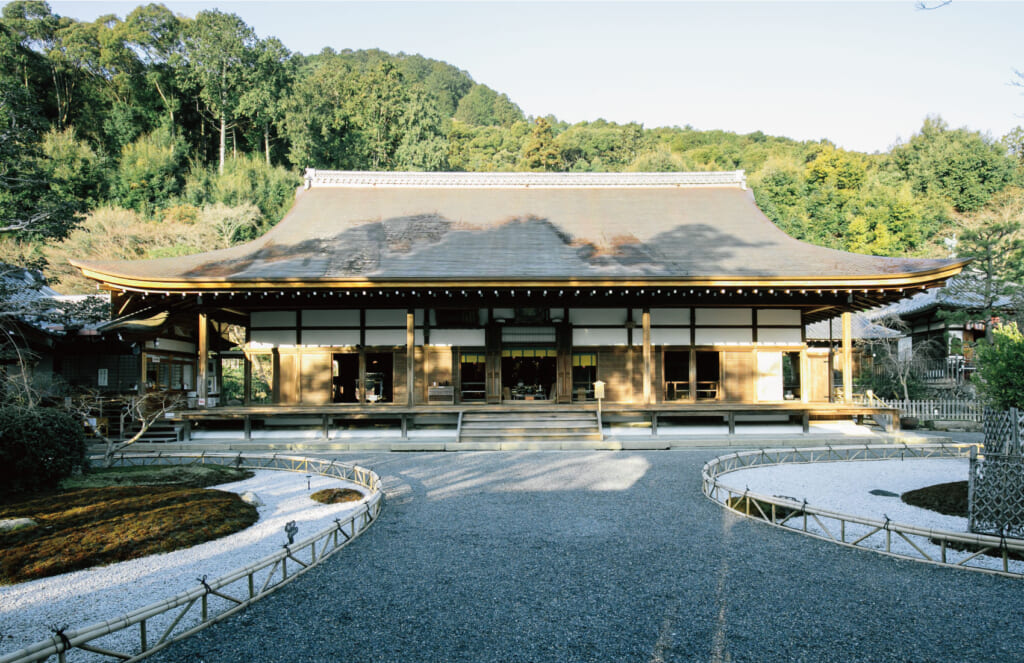 Nison-in Temple, spread out at the foot of Mt. Ogura, as its name suggests, enshrines two principal deities, Shakyamuni Buddha and Amida Nyorai (Important Cultural Property). The wide approach extending from the main gate is called "Baba of Autumn Leaves," and the maple and cherry trees planted alternately for about 100 meters welcome visitors with seasonal views.
Rakushisha
This is the site of the hermitage of Kyorai Mukai, a disciple of Matsuo Basho. Basho visited this place three times and wrote his Saga Nikki during his stay. The garden is planted with seasonal haiku plants and many haiku monuments stand in the garden. The tasteful appearance of the thatched roof attracts many people now and in the past.
15:45
Arashiyama torokko station(Sagano Romantic Train)
Arashiyama torokko station(Sagano Romantic Train)
A diesel locomotive "trolley train" runs from Arashiyama to the Hozukyo Gorge at an average speed of about 25 km/h. Inside the classic Art Deco style small train is a retro atmosphere with wooden chairs and naked light bulbs. The train offers a relaxing ride, with a view of the four seasons from the windows.
Approx. 3-minutes by train on the Sagano Romantic Train
16:00
Saga torokko station
16:05
Saga torokko station
16:10
snow peak LANDSTATION KYOTO ARASHIYAMA
snow peak LANDSTATION KYOTO ARASHIYAMA
This old private house café was renovated from a 100-year-old ryokan operated by the outdoor brand "Snow Peak". The juicy and satisfying Snow Peak's special BLCT hamburger and the green tea drink with subtle aroma of yuzu and apple are very popular! Enjoy the camping atmosphere and take a breather in Arashiyama, Kyoto, a popular sightseeing spot.
17:15
snow peak LANDSTATION KYOTO ARASHIYAMA
17:20
zarame gourmet cotton candy
zarame gourmet cotton candy
Specializing in Kyoto cotton confectionery. The lineup includes a variety of flavors such as cotton yatsuhashi, Kyo green tea latte, and sakura miruku. They are made with carefully selected ingredients, mainly from Japan, based on our own originally developed raw materials for an elegant taste. The stylish packaging featuring a Japanese-style painting of a woman is perfect for souvenirs.
17:35
zarame gourmet cotton candy
17:45
Karan Coron Kyoto Arashiyama
Karan Coron Kyoto Arashiyama
This store offers a wide variety of cute Kyoto goods such as handbags and bags. There are many variations of textiles with various patterns, from cherry blossoms and checkered patterns to Daruma dolls, foxes, green tea parfaits, and Kyoto cityscapes such as Kyoto Tower and the torii gate. How about a souvenir for yourself?
18:05
Karan Coron Kyoto Arashiyama
18:10
Randen Arashiyama station
Randen Arashiyama station
Kyoto's only streetcar, known as "Arashiyama Randen," runs in one- or two-car trains through the historic cityscape. The Arashiyama station is lined with cafes and souvenir stores, and the "Kimono Forest," a beautifully designed forest of approximately 600 poles decorated with yuzen, makes for an enjoyable trip.
Approx. 20-minutes by train on the Randen Train
18:30
Randen Saiin station
18:35
Hankyu Saiin station
Approx. 4-minutes by train on the Hankyu Kyoto Line
18:40
Hankyu Karasuma station
18:50
AWOMB karasuma honten
AWOMB karasuma honten
This is a "Teori Sushi" restaurant where you can make and eat your own original hand-rolled sushi by freely combining about 50 different ingredients such as Obanzai, sashimi, and condiments. The colorful ingredients arranged on one plate are a feast for both the eyes and the palate.