Coffee is indispensable when you want to take a breather or change your mind.
Here's a selection of the best coffee shops in Osaka, Kyoto and Kobe!
OSAKA
【Umeda】Sunshine, a coffee specialty store
Sunshine, a coffee specialty store established in 1973 in the Umeda underground shopping district, has been in business for 45 years.
The retro-style interior has a nostalgic yet sophisticated atmosphere, and is loved not only by regular customers but also by the younger generation of highly sensitive customers.
The coffee is roasted every morning in a roasting machine located in the store, and is served with the flavor of the beans brought out to the fullest.
You will be enchanted by the aroma and taste that only a specialty store can provide.
The homemade pancakes, hardened baked pudding, and other homemade sweets that only a pure cafe can offer are also popular.
LOCATION INFORMATION
Address
2-11-8, Sonezaki, Kita-ku, Osaka
Access
6-minute walk from Hankyu Osaka-umeda Station
4-minute walk from Hanshin Osaka-Umeda Station
【Toyonaka】Kirin coffee
A coffee shop popular for its charcoal-roasted coffee, handmade cakes, and egg sandwiches.
A variety of coffees, such as "Kirin Blend Coffee," which tickles your nose with the aroma of deeply roasted beans, and "Sumiyaki," which uses charcoal-roasted beans, are made to order and brewed using a siphon.
The elegant cups, from which you can choose from about 70 varieties, and the Mozart playing in the background music are other elements that make up the delicious taste.
It is a coffee shop in town that has been loved by the locals for a long time.
LOCATION INFORMATION
Address
1-2-15 Tamai-cho, Toyonaka, Osaka
Access
Right by Hankyu Takarazuka Line Toyonaka Station
【Suita】Kawakami coffee roaster
A private roasting store specializing in specialty coffees, where the sincerity of "taking things for granted every day" is evident.
Located in a residential area, it is a relaxing place to spend time no matter what time of day you visit.
The chimney of the roasting machine sticks out in front of the store, inviting you to smell the fragrant aroma as you pass by.
The menu consists of blends and a few single origins.
Enjoy homemade cakes and sandwiches in a stylish store with the warmth of wood.
LOCATION INFORMATION
Address
4-11-15 Yamadahigashi, Suita, Osaka
Access
10-minute walk from Hankyu Senri Line Yamada Station
KYOTO
【Arashiyama】Arabica Kyoto Arashiyama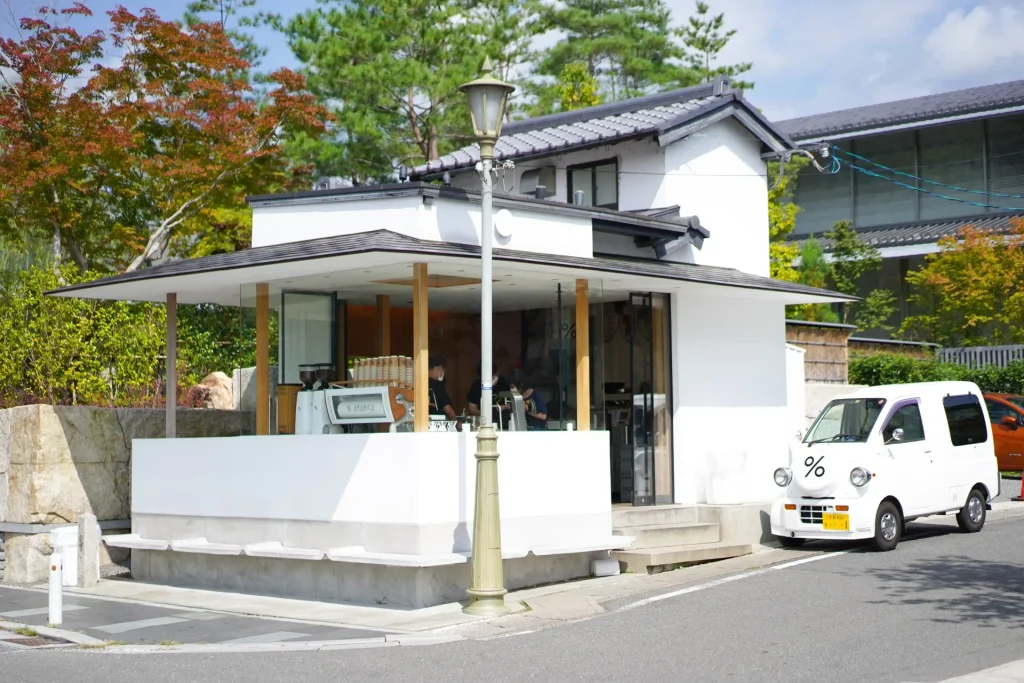 The white building overlooking the Togetsu Bridge and the Katsura River is the Arabica Kyoto Arashiyama.
In addition to our own farm in Kona, Hawaii, we roast and sell specialty coffees carefully selected from around the world every day.
We recommend the café latte, which has a deep and rich flavor.
You can go for a stroll in Arashiyama with a cup of coffee in your hand, or you can relax in front of the store before going for a walk. It is also recommended to take out and take pictures with the scenery of Arashiyama.
LOCATION INFORMATION
Address
3-47 Sagatenryuji Susukinobaba-cho, Ukyo-ku, Kyoto
Access
15-minute walk from Hankyu Arashiyama Line Arashiyama Station
【Higashiyama】Blue Bottle Coffee Kyoto Cafe
The Blue Bottle Coffee Kyoto Cafe is located in a renovated traditional Kyoto townhouse that is over 100 years old.
The large glass windows that let in natural light and the high vaulted ceilings give the space a wonderful sense of freedom.
Our buyers examine seasonal coffees and carefully roast them in our roastery to maximize the individuality of the beans. You can enjoy flavorful and delicious coffee in an excellent location in the middle of a tourist area.
At The Lounge-Kyoto, a space where reservations are completely required, you can enjoy three types of specialty coffee and seasonal desserts as a course.
LOCATION INFORMATION
Address
64, Nanzenji Kusakawa-cho, Sakyo-ku, Kyoto
Access
From Hankyu Kyoto Line Karasuma Station, transfer over to the Kyoto Municipal Subway and go to Keage Station. It's a 15-minute walk from there.
【Higashiyama】The Unir coffee senses
The Unir coffee senses is located on Ichinenzaka, near Kodaiji Temple. The building of the cafe is a traditional building designated by the city of Kyoto, and once you step inside, you will find a sophisticated Japanese space where you can feel the history of Kyoto.
The store specializes in specialty coffees and takes special care in roasting them, so you can drink really good coffee.
Enjoy a cup of coffee with fruit sandwiches made with lavish seasonal fruits, or an affogado coffee pudding with the irresistible combination of espresso and ice cream.
LOCATION INFORMATION
Address
363, Masuya-cho, Higashiyama-ki, Kyoto
Access
20-minute walk from Hankyu Kyoto Line Kyoto-kawaramachi Station
KOBE
【Motomachi】Evian Coffee Shop
It's been more than 60 years since we opened our doors as the first siphon café and evian coffee shop in Kansai. The siphon coffee at the Kobe Evian Coffee Shop uses an alcohol lamp, which is rare nowadays.
Put slightly more medium-roasted beans into the siphon, warm the flask with the flame of an alcohol lamp, and stir slowly when the water rises to the roto.
The coffee, carefully brewed by a skilled siphonist, is a perfect match for the homemade sweets.
LOCATION INFORMATION
Address
1-7-2 Motomachidori, Chuo-ku, Kobe, Hyogo
Access
2-minute walk from Hanshin Main Line Motomachi Station
【Kobe】Kobe Coffee Meister Cafe
The " Kobe Coffee Meister " café was created by Nichibei Coffee, a long-time coffee roaster in the port city of Kobe.
You can enjoy a cup of freshly ground, freshly brewed coffee, carefully hand dripped by a staff member who holds the first level of coffee instructor certification.
As soon as you enter the store, the aroma of coffee spreads, making it an irresistible place for coffee lovers.Along with the lunch menu and sweets menu, enjoy the taste of confidence backed by history.
LOCATION INFORMATION
Address
6-2-10, Nadaminamidori, Nada-ku, Kobe, Hyogo
Access
3-minute walk from Hanshin Main Line Nishinada Station
【Takarazuka】SHIZUKU COFFEE ROASTER
The beans handled at SHIZUKU COFFEE ROASTER are very rare specialty coffees, accounting for only about 5% of all coffee distributed in the world.
Its clear taste is a testament to the careful hand-picking process that removes defective beans before and after roasting.
We roast six to seven types of beans that are produced in various parts of the world and meet the standards of specialty coffee.
The restaurant is furnished with antique furniture, and each table has a different atmosphere, so enjoy a blissful drink at your favorite seat.
LOCATION INFORMATION
Address
7-6 Miyano-cho, Takarazuka, Hyogo
Access
8-minute walk from Hankyu Takarazuka Line Kiyoshikojin Station