In the hot summer, what we miss is cold food, shaved ice.
Japan has been experiencing a shaved ice boom for the past several years. In proportion to this boom, more and more stores are offering unique shaved ice, not only the simple ones with syrup, but also those with fruit on top, or flavors of ice itself.
In this issue, we will introduce you to some of the best places to enjoy delicious shaved ice in the Kansai region. Try to find your favorite!
1.Ranran, specializing in ice and sweet potatoes, Ibaraki (Osaka)
A popular store in Ibaraki, Osaka is "Ice and Sweet Potato Specialty Shop Ranran". In a space renovated from a 50-year-old old house, customers can enjoy fluffy shaved ice and sweet potato sweets made from special sweet potatoes. Originally an ice wholesaler, the shaved ice made by ice professionals is highly reputed.
Our recommendation is the "Imozukushi," which is a perfect combination of sweet potato and ice. The fluffy ice is filled with sticky sweet potato paste. It is served with sweet potato skin caramel sauce and salt for a change of flavor. Enjoy the rich shaved ice until the very end.
LOCATION INFORMATION
Address
1-7-25, Masago, Ibaraki-shi, Osaka [MAP]
Access
15-minute walk from Hankyu Kyoto Line Minami-ibaraki Station
2.unimocc, Tanimachi (Osaka)
The cafe "unimocc" in Tanimachi, Osaka, offers drinks and sweets inspired by famous paintings, and from July 1, a summer-only menu featuring Van Gogh's famous painting "Starry Moonlit Night" will be available. It is a drinkable shaved ice with a delightful crunchy texture, containing granita, an Italian shaved ice made by freezing syrup.
The "Campus Cake" is also popular at this store, where you can experience making your own artwork by serving it yourself. Using real painting tools, you can make a pure white cake look like a canvas and serve it with colorful flavored creams to create your own unique work of art.
LOCATION INFORMATION
Address
6 -3-25, Tanimachi, Chuo-ku, Osaka [MAP]
Access
1-minute walk from Osaka Metro Tanimachi Line Tanimachi6-chome Station
3.SENNARIYA COFFEE, Shinsekai (Osaka)
"Sennariya Coffee" was established in 1948 as the birthplace of mixed juice, and in May 2022, the grand opening of Senjya Coffee Umeda took place. In the old-fashioned atmosphere of a junsha-style cafe, you can fully enjoy the retro Showa-era, photo-worthy menu.
The very popular "Mixed Juice Frappe," which is shaved ice with Sennariya Coffee's signature mixed juice, is a milky, fruity concoction of homemade mixed juice sauce and milk ice.
New this year is the "Kuromitsu Kinako no Mitarashi Frappe" topped with a homemade sauce that combines kuromitsu and kinako and topped with loose whipped cream and Mitarashi dumplings. Many other retro shaved ice menu items are also available.
LOCATION INFORMATION
Address
3-4-15, Ebisuhigashi, Naniwa-ku, Osaka [MAP]
Access
2-minute walk from Osaka Metro Midousuji Line Doubutsuen-mae Station
4.TOTARO, Karasuma (Kyoto)
TOTARO in Karasuma Gojo, Kyoto, offers cool Japanese Sanbon shaved ice for the summer season only.
Two types of shaved ice are available: "Kakigori Mizore," ice with milk ice cream and passion fruit, topped with special Mizore, and "Kakigori Matcha," matcha and wasanbon mixed with rich milk and topped with special matcha sauce. Please enjoy the ever-changing flavors as you continue to eat.
TOTARO opened in March 2023 in a renovated vacant building. The earthen walls and floor plan of the 100-year-old house have been kept and renovated, and the restaurant offers a standing menu of healthful sweets and drinks that are made with a focus on sugar.
LOCATION INFORMATION
Address
101-2, Nushiya-cho, Shimogyo-ku, Kyoto [MAP]
Access
From Hankyu Kyoto Line Karasuma Station,
transfer over to the Kyoto Municipal Subway and go to Gojo Station.
It's a 4-minute walk from there.
5.koe donus, Kawaramachi (Kyoto)
Located in Kawaramachi, Kyoto, koe donuts offers doughnuts made with the keywords "organic," "natural origin," and "local production for local consumption" in terms of ingredients and production.
Every summer, they offer "Kyoto shaved ice" to go with their donuts. This year's theme is tea. The "Kyo-bancha and coffee bean paste" is a perfect match of the savory flavor of tea and the bitterness of coffee bean paste, making it a light and refreshing treat. The "Biwa and Jasmine Tea with Tofu Cream" is topped with the gentle flavor of tofu and a thick, juicy loquat compote, giving it an oriental flair.
The store was designed by Kengo Kuma, a world-renowned Japanese architect, and features 572 traditional six-piece woven baskets made of bamboo from Arashiyama, Kyoto. Please enjoy the atmosphere of the store as well as the shaved ice and donuts.
LOCATION INFORMATION
Address
557, Nakano-cho, Nakagyo-ku, Kyoto [MAP]
Access
1-minute walk from Hankyu Kyoto Line Kyoto-kawaramachi Station
6.Un berger manquant, Takarazuka (Hyogo)
"Un berger manquant" is located in a building just a short walk from Hankyu Sakasegawa Station. This adult café serves baked goods and sherry, but it is also attracting attention from shaved ice lovers all over Japan as a place where shaved ice can be enjoyed all year round.
The shaved ice menu changes every three weeks, which is surprising. There are always 3-5 varieties offered.
The menu at this restaurant is full of strange combinations of ingredients. Pictured is the "Salted Caramel Rare Cheese Shaved Ice".
In the past, the shaved ice menu has included tomato cream with basil sauce and Parmigiano-Reggiano cheese, garnished with lemon jus and fresh small tomatoes!
Check out our Instagram for details on menu offerings!
LOCATION INFORMATION
Address
1-13-27-201, Hyogo, Sakasegawa, Takarazuka, Hyogo [MAP]
Access
3-minute walk from Hankyu Imazu Line Sakasegawa Station
7.New Roughrare, Sannomiya (Kobe)
New Roughrare, a café in Kobe's Kyoryuchi district, now offers a fruit-filled frappe. It is filled with fruit, homemade thick fruit sauce, fluffy shaved ice, and milk pudding hidden under the fluffy ice. It is not only cute but also delicious.
Smoothies that can be easily taken out are also popular. Be sure to stop by for a stroll around the Kobe Settlement!
New Roughrare is a café in a retro building located in the Old Settlement area, where you can feel the history of Kobe. You can enjoy a variety of food from sweets to meals.
LOCATION INFORMATION
Address
18-2, Akashi-machi, Chuo-ku, Kobe-shi, Hyogo [MAP]
Access
8-minute walk from Hanshin Main Line Motomachi Station
8.Caffarel, Sannomiya (Kobe)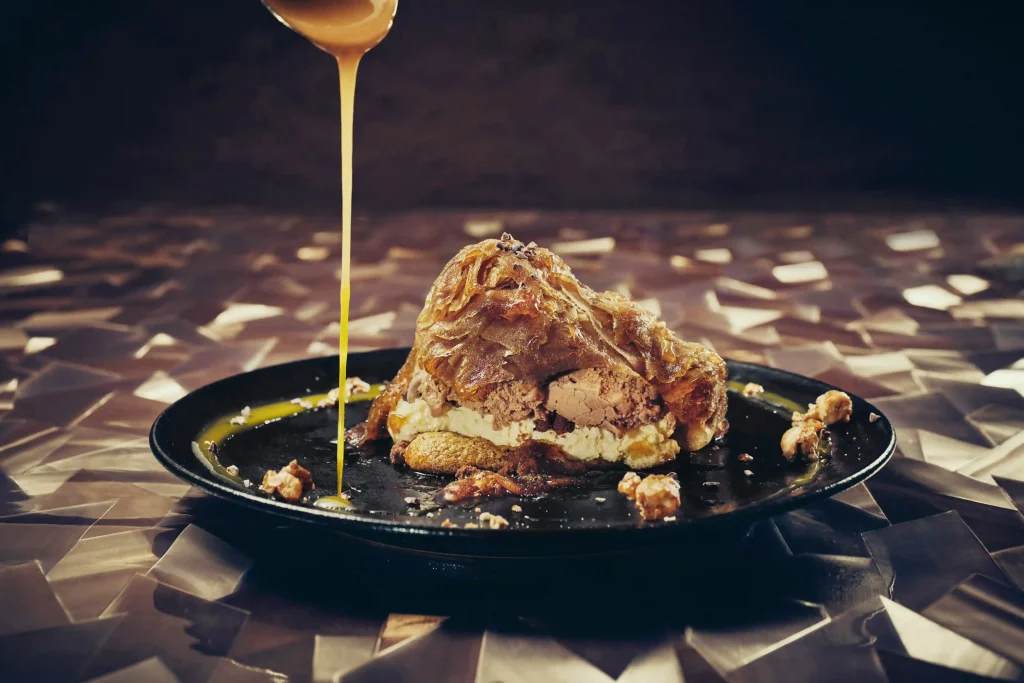 Caffarel, a long-established Italian chocolate brand, has launched its first shaved ice, "Gianduja Tiramisu Shaved Ice"! This beautiful and premium summer sweet for adults can be enjoyed exclusively at the Farrell Kobe Kitano main store.
The Tiramisu can be enjoyed as cold shaved ice as it is, with caramelized hazelnuts and mango orange sauce around it, making it a premium shaved ice for adults.
Caffarel is a long-established chocolate brand from Torino, Italy, founded in 1826. The company invented "gianduja chocolate," which is a combination of roasted hazelnut paste and cacao, and spread it throughout the world. Since then, it has been loved all over the world.
LOCATION INFORMATION
Address
3−7−29, Yamamotodori, Chuo-ku, Kobe-shi, Hyogo [MAP]
Access
12-minute walk from Hanshin Main Line Motomachi Station
9.Salon Naramachi Store (Nara)
The "Salon" is the tea ceremony brand of Nakagawa Masashichi Shoten, a long-established brand in Nara that has been in business for over 300 years. We offer original products for enjoying tea at home, as well as delicious seasonal sweets and selected teas.
Centered around Himuro Shrine, which enshrines a guardian deity of ice, Nara is home to a variety of shaved ice every year. For a limited time only, "Salon Naramachi" will offer "White Shaved Ice with Dark Green Tea Topping," a shaved ice that can be changed to your own taste by pouring thick green tea on it. Enjoy the contrast between the pure white snow and the dark green of the shaved ice.
LOCATION INFORMATION
Address
31-1 Ganriin-cho, Nara-shi, Nara [MAP]
Access
Transfer from Osaka Namba Station on the Hanshin Namba Line to the Kintetsu Nara Line.
8-minute walk from Kintetsu Nara Station.
How was it? All of the stores offer a variety of ice and syrups that make the most of the season. Let's get through the summer with some cool and delicious shaved ice!