Many of you probably find yourself looking at pictures and videos of cute animals every day to relax. For those people, we highly recommend a Hedgehog bar Harinchi. At Harinchi, you can see and touch cute hedgehogs while enjoying drinking.
In this article, we will introduce how to enjoy Harinchi and the members of Harinchi!
Table of Contents
1. What is Harinchi?
2. How to enjoy Harinchi
3. Harinchi's members
4. Harinchi's Menu
5. Harinchi's Goods
6. Let's go to Hedgehog Bar Harinchi!
1. What is Harinchi?
~Open at Nakazakicho, Osaka~
Nakazakicho has an impressive retro townscape lined with old-fashioned row houses.
There are many cafes and vintage clothing stores in Nakazakicho, and the atmosphere is quiet and nostalgic.
Hedgehog Bar Harinchi was opened in October 2019 in this Nakazaki-cho, and it is 15-minute walk from Umeda, the center of Osaka.
If you take a short walk from the station along the shopping street, you will see a yellow sign that is the landmark of Harinchi.
The second floor of the two-story building is a healing space where cute hedgehogs welcome you.
~Why is it a bar and not a café?~
While you are familiar with animal "cafes", you may not be familiar with animal "bars".
Hedgehogs are nocturnal, and as a result of adapting their business hours to hedgehogs, they became a bar.
The owner of the restaurant wanted to avoid stressing hedgehogs as much as possible, so it became a bar instead of a café!
2. How to enjoy Harinchi
Harinchi is a bar where you can have a drink while interacting with hedgehogs.
(1) First, when you enter the restaurant, you will be guided to your seat.
(2) Once seated, the waiter will explain the restaurant's system and menu.
(3) Order drinks and snacks.
We ordered the original cocktail "tingling" and the "homemade fresh lemon sour"!
We'll go into more detail about the menu later!
(4) After a while, they will prepare a hedgehog treat and bring a hedgehog to you.
※You can get a hedgehog treat in exchange for a 700 yen per person charge.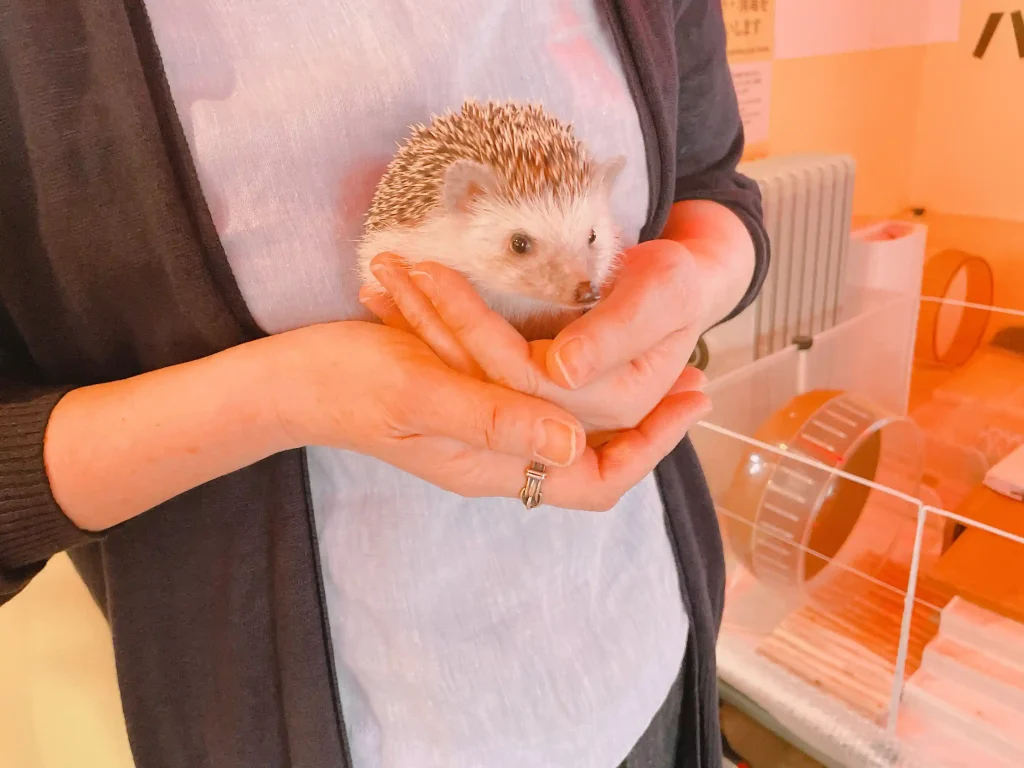 The hedgehog which was brought to our seat was a girl, Hime-chan!
Hime-chan has big eyes, and was twitching her high nose. How cute is she!
You can interact with hedgehogs in this petting area.
It's a very open space, so you can see all sorts of hedgehogs!
(5) Place a hedgehog treat on your hand and give it the treat while calling it's name.
At first, it is not easy to hold them until they get used to your smell, but as they get used to it, you will be able to hold them.
(6) Enjoy drinks and snacks while watching hedgehogs.
Repeating steps (5) and (6), you will be healed by the adorable hedgehogs and relieve your daily fatigue!
3. Harinchi's members
Currently, Harinchi has 17 unique members. (as of June 2022)
Even within the same hedgehog, each has a different personality, and it's nice to enjoy those differences!
We cannot introduce all of them, but we will introduce some of the members.
(1) Hime-chan (3 years and 8 months old)
Hime-chan is a laid-back girl and her charm point is her chubby body.
She often talks in her sleep in a very cute high-pitched voice.
When we visited her, we could hear her talking in her sleep, and when she woke up, she had a sleeping habit on her needles.
She is currently trying to lose weight and eats a small amount of vegetables (cabbage, carrots, corn) before eating hedgehog food.
Other hedgehogs do not try to eat vegetables, but Hime-chan loves them too.
Hime-chan, keep up the diet and live a long, healthy life!
(2) Saku-chan (2 years and 2 months old)
She is a beautiful girl with very big eyes and a high nose.
She has a sweet and pacifistic personality.
When she was a child, she was spoiled to her mom (Sakura-chan), and had a hard time separating from her mom.
She is also very sweet to people and I was able to hold her in my arms.
Hedgehogs do not live in packs, so they often get into disputes with other hedgehogs. However Saku-chan, when she feels like getting into disputes, takes a step back and lets it pass without getting into a fight.
Saku-chan, Hime-chan, and Ichigo-chan are currently living together and they are able to get along so well. It is probably because of Saki's personality.
(3) Genki-kun (4 years and 4 months old)
"Genki" means "energetic" in Japanese. Genki was the most active and spinning the wheel when we visited! Just like his name, he is really energetic!
He came out of the gauge.
At night, he starts exercising around 6:00 p.m., and while he takes breaks and naps, she works out until around 3:00 a.m.
Thanks to the amount of exercise he does, he has a muscular body and weighs about half as much as Hime-chan.
I thought it would be hard for a beginner to tell the difference in their personalities, but even when we looked at them, we could feel each personalities of them!
4. Harinchi's Menu
At Harinchi, you can enjoy authentic drinks and snacks.
〜Drinks~
・ Original cocktail "tingling" (800 yen)
The name is cute and exciting.
This is an original cocktail based on the prickles and fur color of hedgehogs.
The coffee Kahlua base makes it easy to drink, but the alcohol is a little strong, so be careful not to drink too much.
You can even request that the alcohol be made weaker, so please try it!
・ Homemade fresh lemon sour  (700yen)
This is a fresh lemon sour made with a whole lemon.
The soda is also effective, making it a must-try drink for the coming summer season.
You can also enjoy a variety of other alcoholic beverages such as beer, highballs, wine, and sake.
If you are not a fan of alcoholic beverages, don't worry, there are also soft drinks.
~Foods~
・ Assorted nibbles & finger food (800 yen)
This great value set includes potato chips, pretzels, tuna, salami, smoked cheese, mini tomatoes, chocolate wafers, and vegetable chips on a single plate.
This is a great value set that allows you to enjoy a little bit of every flavor.
There are also a variety of other snacks that go well with alcoholic beverages, so be sure to enjoy your meal while admiring hedgehogs!
5. Harinchi's Goods
Cute original Harinchi goods are also available for purchase, so please check out the goods when you visit the store.
(1) Eco bag (1000 yen)
It is very cute, with the same design depicted on the signboard of Harinchi.
When not in use, it can be rolled up and fastened with a rubber band, making it not only visually appealing but also highly functional.
(2) A5 notebook (600 yen)
This notebook is printed with a gray 5mm square on a light cream-colored high quality paper.
The design on the front cover is of course very pretty, but the back cover is also very pretty.
(3) Sticker set (500 yen)
This is a set of 20 stickers made with paste-and-release glue.
The stickers are removable, so you can easily try them on various places.
Other hedgehog breeding supplies are also available.
6. Let's go to Hedgehog Bar Harinchi!
How was it?
Whether you are looking to relieve your daily fatigue or just love hedgehogs, please visit Harinchi and meet the cute hedgehogs when you come to Umeda, Osaka.
LOCATION INFORMATION
Address
Eternal II 2F South, 11-6 Naniwa-cho, Kita-ku, Osaka
Access
5 minutes (350m) from Tenjimbashisuji-Rokuchome Station on Tanimachi Line/Sakaisuji Line
6 minutes (450m) from Nakazakicho Station on Tanimachi Line
6 minutes (500m) from JR Tenma Station