Don't you want to go to a park where you can play freely under the blue sky?
There are many parks along the Hankyu line that are recommended for such occasions. -Relaxing in a café, playing with your children…. A place where you can enjoy yourself while relaxing and forgetting about everyday life.
We have selected three such wonderful parks!
I hope you find this helpful when considering where to go!
Table of Contents
1 <Osaka> Ama Site Park
2 <Kobe> Meriken Park
3<Osaka> Minoh Park
<Osaka> Ama Site Park
Takatsuki City has been working for about 10 years to develop the Ama Site Park, and in March 2021, the park will finally be fully opened. The new landmark of Takatsuki City is about five times the size of the Koshien Stadium! It also has one of the largest family playgrounds in the Kansai region, "Bonelund Playville," making it ideal for family outings. There are also stylish restaurants and kitchen cars, perfect for a date!
SUNDAY'S BAKE 569
At the large cafe "SUNDAY'S BAKE 569", you can eat oven-baked pizza with a beer in one hand on open-air sofas or enjoy a barbecue on the terrace. If you want to enjoy an open-air lunch outdoors, take out from a kitchen car and eat on the lawn!
For lunch, refreshing drinks starring herbs from our own garden, a "France-style salad" with a variety of seasonal vegetables and lunch with choice of soup are available. At night, the restaurant offers wood-fired Neapolitan pizzas and a full trattoria menu. At night, the restaurant offers wood-fired Neapolitan pizzas and a full trattoria menu.
Casual French cuisine at "RESTAURANT FARMERS CLUB"
The symbol of the secondary opening area is a farm-style building with white walls and a red roof.
This is the former Kyoto University Farm, built in 1930. It is a building of high historical value, selected as a Heritage of Osaka Prefecture's Heritage of Modernization, and its stone spandrel walls and other features show the fashion of the time when it was built.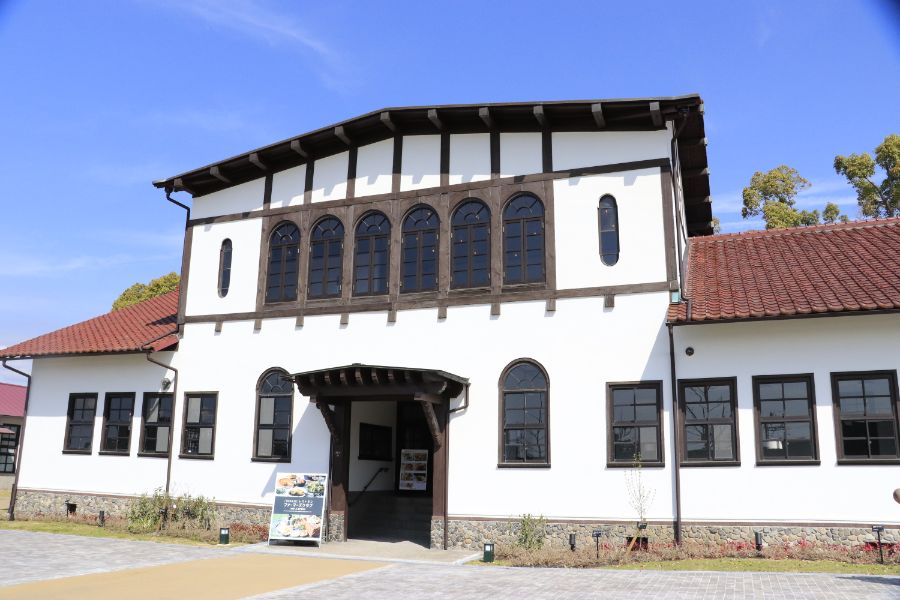 The renovated building is divided into three main parts: the main building, the exhibition hall, and the experience hall.
"RESTAURANT FARMERS CLUB", which occupies the majority of the main building, is a casual French restaurant that combines an authentic bistro menu with Western flavors. It is characterized by its high ceilings and open space.
Stylish first floor seating
Retro classic upstairs seating
"GRASS DOG & CAT" is your one-stop shop for all your pet needs.
GRASS DOG & CAT is a comprehensive pet service facility with a dog run, a trimming salon, and a dog kindergarten. The dog run is covered, so you can let your pet play without worrying about the weather!
On the first floor, there is a large selection of pet food and pet goods.
There is also a line of cute clothes for pets.
If you want to take care of your dog or cat, go to the Trimming Corner. Not only shampooing and trimming, but also packs and mouth care are available.
There is a dog kindergarten on the second floor! There are also training courses and other activities in which owners can participate. We're always open for trial enrollment, so if you're interested, please feel free to contact us!
*Reservations must be made in advance to experience the park.
Enjoy the outdoors at Camp Gear & Cafe BASE!
Next up is Camp Gear & Cafe BASE, a hands-on camping café.
In addition to offering a cafe menu and weekly camping meals, they also sell camping gear!
Inside the store, visitors can enjoy a cup of tea in the café and get acquainted with camping gear.
The lamps and tumblers displayed on the wall are colorful and stylish!
It makes you want to buy camping gear at "Camp Gear & Cafe BASE" and go camping.
The store sells mainly small items, but it has a complete lineup, so those who have camping plans can enjoy shopping while consulting with the store staff.
"Fluffy Dome" for 3 years old to elementary school students only
Now, for those with children, there is one place you should definitely stop by. That is the membrane trampoline "Fluffy Dome" located just across from the "Camp Gear & Cafe BASE" I mentioned earlier!
The Fluffy Dome is one of the most popular playground equipment in Japan these days. It is a trampoline where children can take off their shoes and stretch out in nature. Children can naturally develop their leg strength while bouncing around on the trampoline and playing tag or running with their friends.
It must be a lot of fun bouncing around in the liberating Ama Site Park!
The target age group is from 3 years old to elementary school students. Please read the promise listed in front of the Fluffy Dome before letting your child play.
<Kobe>Meriken Park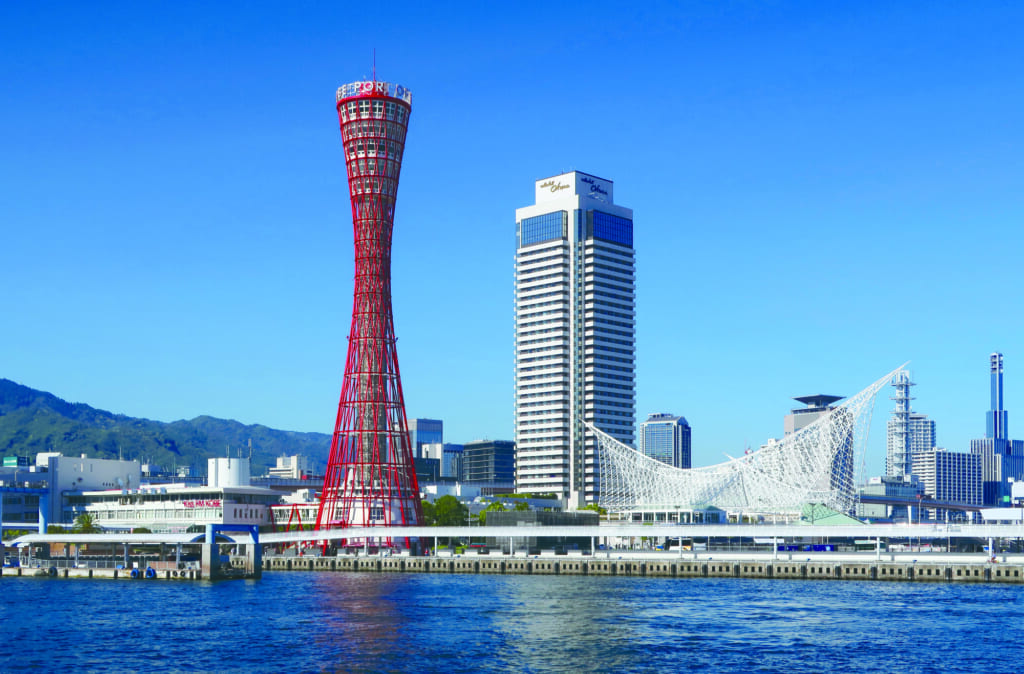 Seaside Park x Stylish Cafe
After walking around the city of Kobe, take a short walk to a seaside park. Under the open sky, lie down on the soft grass, read a book, and enjoy the night view, which will lighten your heart.
There is an open space where children can exercise to their heart's content.
Starbucks Coffee Kobe Meriken Park
At night, you can enjoy a different atmosphere of Meriken Park than in the daytime.
"Starbucks Coffee Kobe Meriken Park" is a great spot to view the harbor from inside the store! The terrace is also recommended during this season when the breeze is pleasant.
~New urban aquarium with a new sensation~
A short distance from Meriken Park is "átoa," a new urban aquarium that opened on October 29, 2021.
The name "átoa" is a coined word that combines the words "Aquarium to" and "Art". The aquarium is divided into eight zones, with approximately 60 tanks housing 3,000 living creatures of about 100 species.
The 2nd to 4th floors of KOBE PORT MUSEUM are "átoa".
Admission is 2,400 yen for adults, 1,400 yen for elementary school students, 800 yen for infants (3 years and older), and free for children (under 3 years old).
átoa cafe ~photogenic gourmet food~
At "átoa cafe" located on the 4th floor, you can enjoy cute and attractive gourmet food that will make you want to take pictures.
Hand size otter chocolate manju (600 yen)
The manju (Japanese sweet bun) has a well-designed otter expression on it!
Inside was a chocolate cream filling that not only looked great, but tasted great, too!
When you visit Kobe, please enjoy the family time at Meriken Park and átoa, a new type of urban aquarium!
<Osaka>Minoh Park
Located only 30 minutes by train from Umeda, Osaka, Minoh Park offers a rich natural environment where visitors can enjoy walking along a waterfall path with beautiful fresh greenery in May and fall foliage viewing in autumn. The park attracts many visitors for dates and family outings, whether it is for the fresh greenery in spring, the cool summer air, or the changing leaves in autumn.
PARK×SEASON ~A forest rich in nature where fireflies glow~
In the latter half of June, fireflies can be seen dancing along the clear riverbank. It is fun to stroll through the park at night in search of the fantastic light.
Fireflies prefer the darkness of the riverbanks where the trees are thick, so from the trees near the Ichino Bridge near the park entrance to the bridge in front of Ryuanji Temple are particularly good spots to find them. The peak of the light emission is around 9:00 p.m. The best time to see the fireflies is in late June, but in recent years, the emitting season tends to be earlier. Please do not take fireflies home with you, but rather gently hold them in your hands and watch them. Also, be careful not to expose yourself to strong light such as flashlights or camera flashes.
Supreme coffee at the nostalgic "Yamamoto Coffee House"
"Yamamoto Coffee House" is recommended for those who want to visit Minoh Park and enjoy the great outdoors while taking a breather at a cafe. The building looks like a villa in a summer resort, which is impressive. It is located right in the middle of Hankyu Minoh Station and Minoh Otaki Waterfall.
The restaurant has a high quality atmosphere steeped in history, with stately furnishings and chairs. The collection of coffee cups and coffee utensils is also noteworthy.
The coffee served in this retro store is brewed with a siphon coffee maker. Each cup is carefully brewed after the order is placed.
Among a total of about 10 types of coffee, including original blends and coffees by region, we especially recommend the "Yamamoto Special Coffee". It is characterized by its easy-drinking quality, while highlighting the richness and bitterness of the coffee.
"Yamamoto Special Coffee", served in a pot, is a generous two cups. Enjoying the aroma and taste of the coffee slowly and carefully while gazing at the rich natural surroundings is in short, the best! Be sure to enjoy a light meal or a piece of cake as well.
How did you like it?
The Hankyu line connects Osaka, Kyoto, Kobe, and other urban areas, but it is also characterized by a lot of greenery. There are many large parks along the line, and the characteristics of these parks vary. Please visit them for different purposes, such as playing with children on the many playground equipments, spending time at a relaxing café, or viewing beautiful flowers and insects.