<CONTENTS>
1.What is ROKKONOMAD?
1-1Office Space
・Work Room
・Phone Booth
・Conference Room
1-2 Shared Space
・Social Room
・Cottage, Wood Deck
1-3 Lodging Space
・Private Room
・Shared Bedroom
2.NL/ROKKO
3.Access
1. What is ROKKONOMAD?
ROKKONOMAD is a shared office where you can stay overnight in the forest, which will be established as a "co-creation lab", a business exchange base on the mountain under the "Rokko Yamagami Smart City Concept" promoted by Kobe City.
The facility has an office space where you can work while enjoying the spectacular view, a shared space where members can easily communicate with each other, and an accommodation space where you can relax in the great outdoors.
Would you like to work a little out of town?
Now let me introduce you to ROKKONOMAD, a shared office in the forest where you can stay overnight!
This time, we headed on foot from Rokko Sanjo Station on the Rokko Cable.
On the day of our visit, it was cloudy and foggy, making the mountain path fantastic.
As you come closer, you will see a rock with the logo. It's a cool landmark, one with nature!
1-1 Office Space
First, we will introduce the office space where you can work surrounded by nature.
・Work Room
The office space has 17 working seats.
This is a room for quiet and concentrated work.
You can work surrounded by high ceilings and warm Rokko cedar flooring.
There is a desk with a great view overlooking the city of Kobe from the mountain.
There is also high-speed Wi-Fi throughout the building so you can work in peace.
All have free desks, spacious desks to work at, and you're sure to get some work done!
・Phone Booth
This room is for one person and can be used for web conferencing or phone calls.
Advance reservations are not required and the room can be used at any time.
・Conference Room
Meeting rooms can be reserved in advance. *There is a charge.
There are two rooms in total.
With monitors and whiteboards, the space is open and perfect for management camps and brainstorming sessions. You can also go directly out onto the wooden deck, so if your meeting gets stuck, you can take a breath of fresh, clear air outside to refresh yourself.
1-2 Shared Space
・Social Room
This room is a relaxing place to eat, drink coffee, or talk and work.
It is equipped with a long table, a comfortable sofa, and a pantry where you can make coffee or tea.
There is also a shared refrigerator and microwave oven.
You can also cook and eat your own lunch in this kitchen.
During the cold winter months, you can also warm up by the fireplace.
The daily lunch (1,100 yen) offered daily is also available here!
This time I had the sag curry (spinach curry).
It had a fried egg, plenty of vegetables as side dishes, and the curry was spicy and delicious!
・Cottage, Wood Deck
You can also have lunch on the wooden deck.
After your meeting, you can use it as a group to deepen your friendship!
1-3 Lodging Space
・Social Room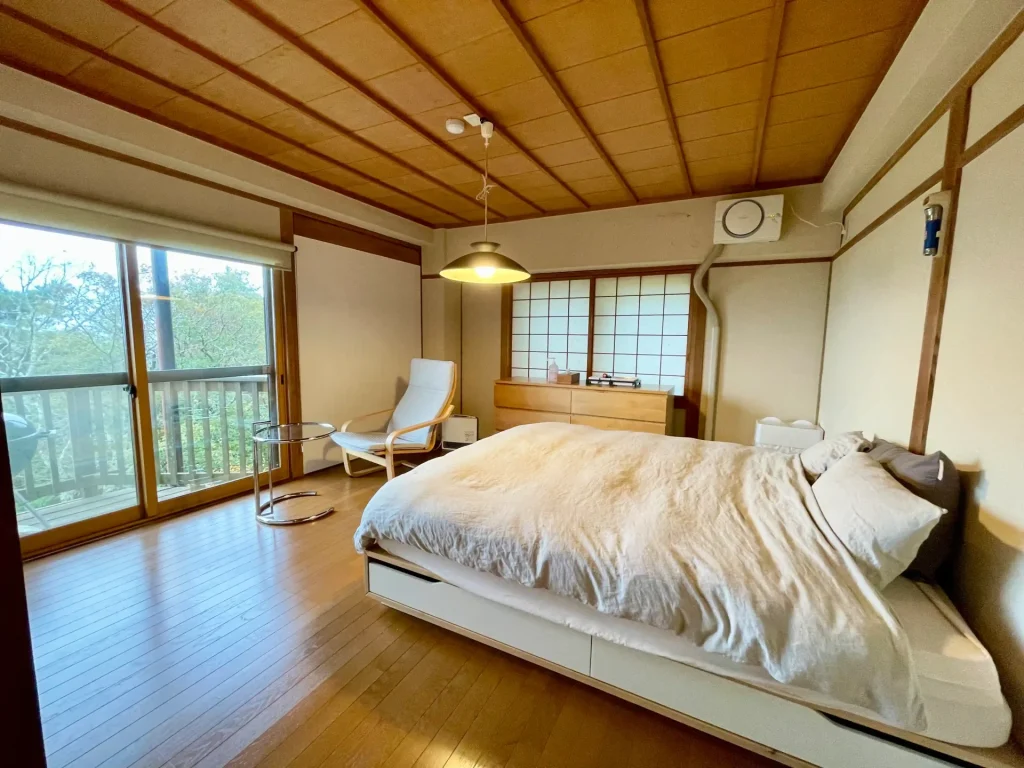 ROKKONOMAD has a total of two private rooms (Japanese-style and Western-style) for overnight stays.
When you stay here, you can wake up to the sound of birds chirping in the morning.
The size of the room is about 8 tatami mats, and you can have a double bed all to yourself.
You can go directly to the wooden deck and work outside on a pleasant day.
Shower, toilet, and kitchen are shared.
・Shared Bedroom
This is a shared bedroom for those who want to stay at an affordable price.
Even though it is a shared bedroom, it is separated by curtains so that you have enough personal space.
2. NL/ROKKO
ROKKONOMAD also offers various events for business people.
One of them is NL/ROKKO.
NL/ROKKO is a mountain walking project on top of Mt. Rokko to think about the future of "work" with participants, taking hints from Dutch society and thought.
If you register here (https://nllocal.net/rokko#toparticipate), you will receive an email with a detailed map to the first point.
On the day of the hike, you will find a booklet at the location and follow the route described in the booklet.
At several points during the hike, booklets were placed at several points, and by reading these booklets, one's thoughts about "working" became deeper and deeper within oneself.
We will walk again to deepen our thinking, and then repeat the process again to deepen our thinking.
The course of the mountain walk takes about 3 hours.
We hope you'll join NL/ROKKO when you visit ROKKONOMAD!
Click here for announcements and columns from ROKKONOMAD.
3. Access
By car, it takes about 40 minutes from Sannomiya, Ashiya, Nishinomiya, Takarazuka, etc. and about 1 hour from Osaka.
Parking is available in a shared parking space on the mountain. (free of charge・about 8 minutes walk to ROKKONOMAD)
By train, it takes about 1 hour from Sannomiya, Ashiya, and Nishinomiya, and about 1.5 hours from Takarazuka and Osaka.
It takes about 12 minutes to get there from Rokko Sanjo Station by walking along the mountain path.
How was it?
For creative ideas, why not get away from the hustle and bustle of the city and work in a shared office filled with nature?
ROKKONOMAD is a place where you can avoid density and think carefully at a different tempo from the city.
We hope you will take advantage of it as well.
LOCATION INFORMATION
Address
1878-48 Rokkosan-cho, Nada-ku, Kobe-shi, Hyogo