Takarazuka Grand Theatre offers not only wonderful stages and performances, but also many other places that you should experience at least once.
1.Hankyu Railway is recommended to Takarazuka Grand Theater.
The first thing I would like to recommend is to take the Hankyu Railway to Takarazuka. Hankyu Takarazuka Station has many tricks here and there to give you a sense of the atmosphere of Takarazuka.
Walk to the end of platform 4 and you will find a photo spot with a large feather painted on it.
There is a brilliant spotlight that looks like a stage light, so you can feel like a top star if you go there dressed like a Takarazuka Revue performer and take a picture.
There are many other posters and Takarazuka-style decorations inside Hankyu Takarazuka Station, and if you take a picture on the stairs just outside the station, you will feel as if you are on stage.
In front of Takarazuka Station, there is a bronze statue of actors dancing glamorously. Please be sure to take pictures here as well.
2.Takarazuka Hotel is the closest hotel to Takarazuka Grand Theater
If you have time, stop by the Takarazuka Hotel, located on the west side of the Takarazuka Grand Theater.Takarazuka Hotel is decorated in an elegant Art Deco style. In addition to the gorgeous grand staircase and stylish chandeliers that are the symbol of Takarazuka, the hotel also displays famous paintings associated with Takarazuka.
In the lobby, there is a lounge called "Renaissance" where you can enjoy afternoon tea, and the cakes and teas are delicious.
If you are coming from far away, we recommend staying at the Takarazuka Hotel.
Not only is the hotel conveniently located right next to the Takarazuka Grand Theater, but the guest rooms are equipped with a bathroom (the photo shows an en suite bathroom), an accessory box, a makeup mirror with a light (some rooms are not equipped with one), and a skin care set (available at the front desk upon request), you can enjoy feeling as if you were a princess. Some rooms also have a view of the Takarazuka Grand Theater through the window.
3."Review Shop" where you can buy Takarazuka Grand Theatre exclusive it
Passing through the Hana-no-michi, you will arrive at the Takarazuka Grand Theatre. This place, hung with large posters announcing performance information, is a popular spot to take pictures with your favorite actors.
The first thing that caught my eye as I entered the Grand Theater was the souvenir store"REVUE SHOP", which mainly sells sweets. Even the product packaging is full of Takarazuka-style designs, and you can't help but buy a lot of them just to have a beautiful box.
Inside the store, you will find freshly baked Ningo-yaki(small cake baked in an iron mold and filled with sweet bean paste),a Takarazuka specialty! The sweet smell draws you in. You can observe the craftsmen at work through the glass. Ningyo-yaki is very popular and there is always a long line of people waiting before a performance.
I bought a lot of sweets too. Many of them are limited editions, so they make great souvenirs for family and friends. When I go home and eat Takarazuka sweets with a cup of tea, I am reminded again of the exciting feeling I had when I saw the performance.
Both cookies and rolled cookies are crispy and rich buttery in the mouth and go very well with tea.
The picture of the baum is so cute that I hesitate to eat it.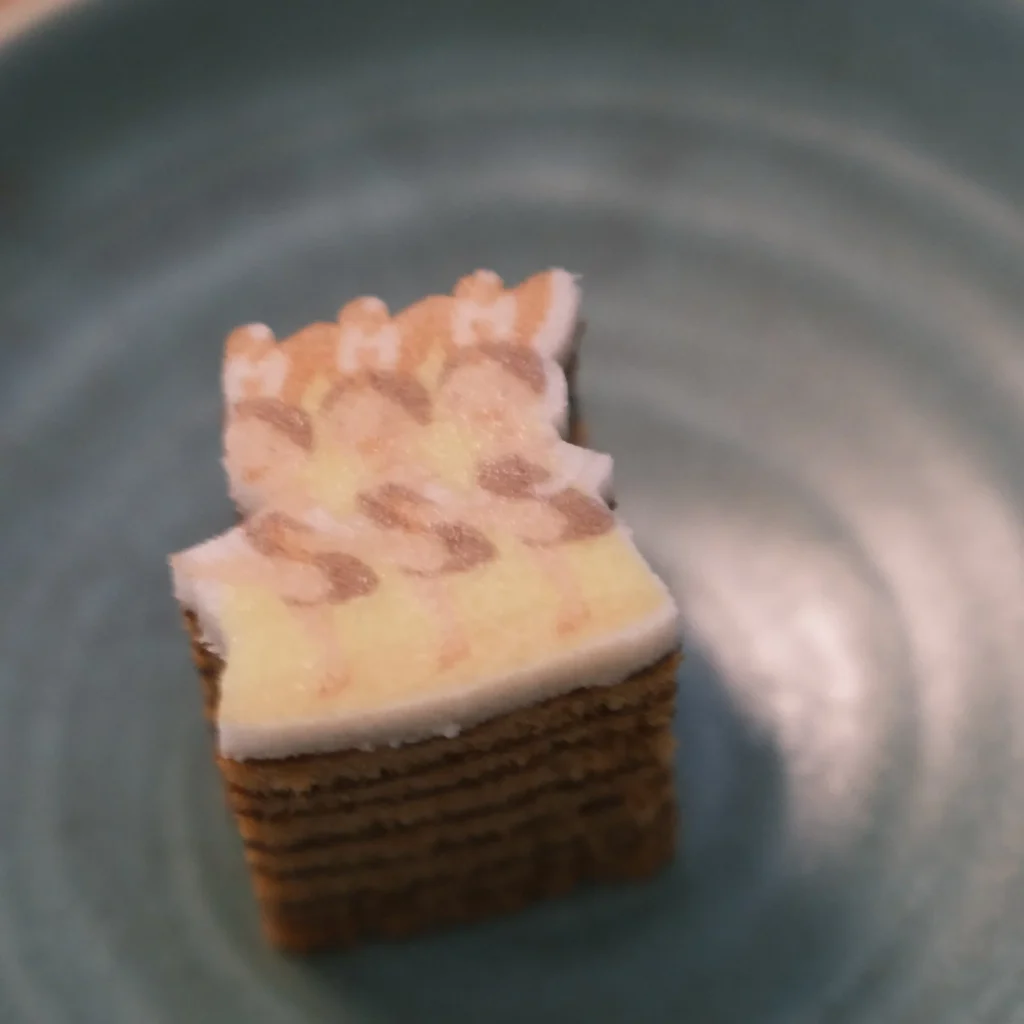 When the baum is neatly die-cut, only this pretty line dance remains.
In addition to sweets, Takarazuka souvenirs include towels, cosmetics, bags, and other items that can be used for a long time. I recommend the towels of the actors carrying large feathers. Every time I use them, they bring back happy memories of the theater.
4.Cafeteria "Fleur" in the Takarazuka Grand Theater
Beyond the souvenir store is the cafeteria"Fleur". The menu is extensive, offering not only regular dishes, but also limited-time-only meals and desserts related to the performance. All of them are so cute that you can't help but get lost in them.
This time, we ordered two kinds of desserts available only during the performance of "Oshidori Uta Gassen" by the Flower Trope.One was the Flower Trope's pink Monaka, a heart-shaped bun filled with a sweet bean paste and cream. The other was a fruit milk pudding. The sweet and sour taste and smooth texture are perfect for summer. Both are decorated with gold leaf for a glamorous touch.
The regular menu also has a wide variety of items. Ahhhh, it's so hard to decide which one to order! If you come with friends or family, we recommend ordering a different gourmet dish for each person to share.
5.Takarazuka Revue Post Office
A little further in, you will find the Takarazuka Revue Post Office!
Not only can you buy Takarazuka original postcards, but you can also send them with a special postmark related to Takarazuka. Very cute!
6."Stage Studio" where you can look like a Takarazuka Revue star
Next to the post office is the Takarazuka-themed "Salon de Takarazuka Stage Studio". If you make a reservation in advance, you can get a glamorous makeover here and experience Takarazuka's authentic stage makeup. In addition to costumes, wigs and accessories can be freely chosen. After the transformation, have a commemorative photo taken.
7.Gelato Shop "Bonheur" where you can enjoy performance-themed menus.
There is also a Gelato Shop,"Bonheur". It shines with its array of gorgeous ice creams. It is hard to decide which one to choose here as well! There are not only regular flavors, but also flavors limited to performances.
The "Pineapple Battle" is themed around the Flower Troupe's performance. The ice cream has a rich pineapple flavor and is nicely accented with chocolate and silver dragee toppings. The sourness of the pineapple fruit is also nice and refreshing. A small Japanese umbrella is stuck on it, adding to the atmosphere of the performance. Take a picture before eating.
8.Takarazuka Revue Hall of Fame, where you can learn more about the Takarazuka Revue.
Next, we went to the second floor. This is the Takarazuka Revue Hall of Fame. Visitors can learn about the history of Takarazuka Revue's development to date, as well as take a closer look at the costumes and tools used on stage. The shining jewels, pearls, and delicately crafted embroidery are brilliant and luminous, and everyone will be immersed in this splendor.
The gorgeous, large feathers leave a lasting impression on everyone who sees Takarazuka Revue. They look as if they are being lifted lightly, but in fact they are much heavier than expected! According to the staff, some of them weigh as much as 10 to 20 kilograms. I wonder how much physical strength is required for the actors to dance with such large and heavy feathers on their backs.
Handprints of top stars are displayed in the hallway. Why don't you place your own hand on the handprint of your favorite actor? As expected of top stars, their fingers are long and thin. I felt their extraordinary efforts and kindness from their handprints.
9.Before viewing the Takarazuka Revue
After filling up, buying souvenirs, and touring the exhibition halls, it was finally time to enter.
The hall of the Takarazuka Grand Theater is a gorgeous place, like a palace of the royal family. The grand staircase is flanked on both sides by beautiful flowers and a piano, making it a perfect spot for commemorative photos.
Wearing a beautiful skirt and climbing the elegantly arched staircase, I felt as if I were the hero of a fairy tale.
I always feel this way when I come to Takarazuka Grand Theater. It is as if I am a princess and have come to a mysterious and beautiful land of illusion.
Before you are seated, you may want to buy cocktails created for this performance. The cocktails vary in flavor according to the performance. The alcohol content is not so high, but for those who cannot drink alcohol, non-alcoholic drinks are also available.
The heart-throbbing performances, the gorgeous stage, the meticulous costumes and lighting, it was like a dreamlike world. When I left the theater after the performance, I felt as if I had slowly awakened from a deep sleep dream and returned to my daily life again. However, the feeling is completely different from the one I had when I arrived here, and I am fully recharged on the way back!
Seeing the Takarazuka Grand Theater bathed in sunlight, I am filled with anticipation for the next performance. I sincerely hope that I will be able to go back to see the dream again.