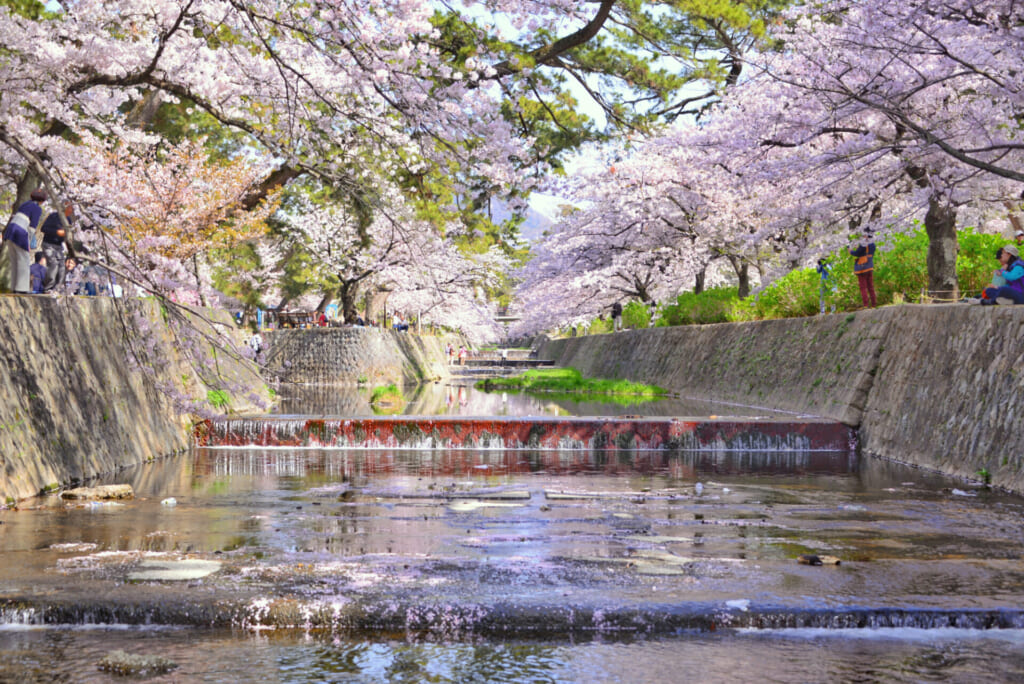 Spring in Japan means "cherry blossoms". Here are some cherry blossom spots scattered throughout Kobe.
-INDEX-
Shukugawa Park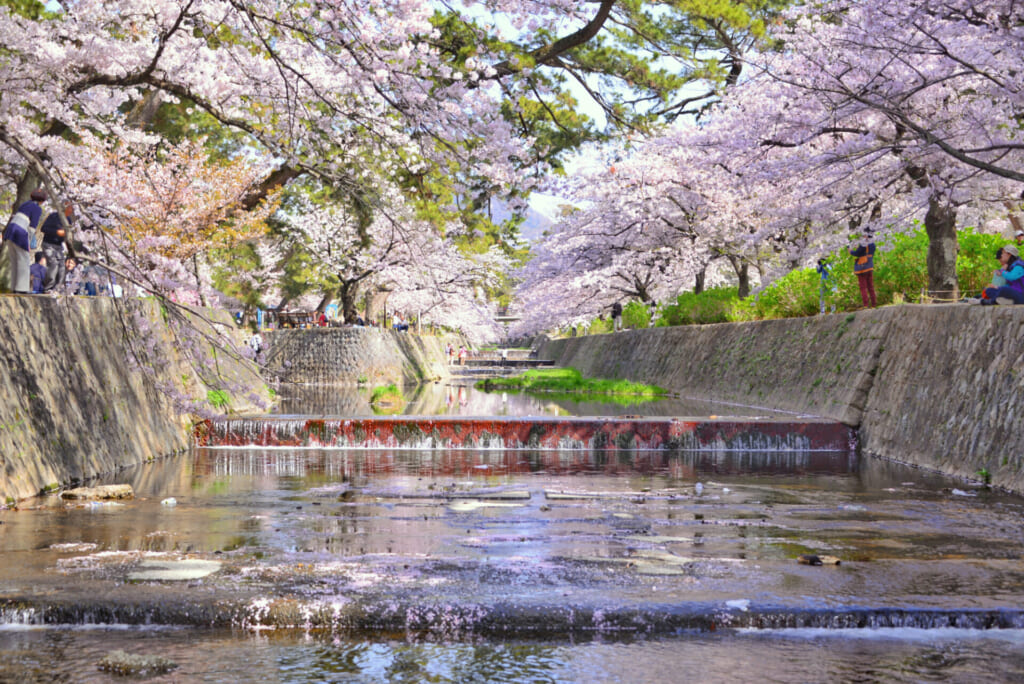 Shukugawa Park has a beautiful view of the cherry blossoms reflected in the river. It has been selected as one of the "100 Best Places for Cherry Blossoms" and is a popular spot for cherry blossom viewing.
The path lined with cherry blossom trees on both banks is a perfect walking course.
You can also enjoy the cherry blossoms from the nearest station, Hankyu Shukugawa Station.
At Hankyu Shukugawa Station, there's a cute bench with a cherry blossom motif!
LOCATION INFORMATION
Address
Miyanishicho, Nishinomiya-shi, Hyogo [MAP]
Access
Right by Hankyu Kobe Line Shukugawa Station
Oji Zoo
Opened in 1951, Oji Zoo is one of the best leisure spots in Kobe where parents and children can enjoy a full day of close observation of animals.
Oji Zoo is also a great place to enjoy cherry blossoms. There are about 480 cherry trees in the park alone, and nearly 800 cherry trees in the entire Oji Park.
The collaboration of animals and cherry blossoms, including giraffes and elephants, is fascinating. Please enjoy the warm weather and be healed by the animals.
LOCATION INFORMATION
Address
3-1, Ojicho, Nada-ku, Kobe-shi, Hyogo [MAP]
Access
Right by Hankyu Kobe Line Oji-koen Station
Sumaura Sanjo Yuen Park
Sumaura Sanjo Yuen Park is a popular amusement park for parents and children, where you can enjoy the view of the blue sky and the sea.
You can get there by taking the Sumaura ropeway and gondola. You can see the collaboration of cherry blossoms with Osaka Bay and Akashi Strait.
It is famous as a cherry blossom viewing spot in Kobe. The number of cherry trees in bloom here and there in the park is one of the largest in Kobe.
LOCATION INFORMATION
Address
5-3-2, Ichinotanicho, Suma-ku, Kobe-shi, Hyogo [MAP]
Access
Right by Sanyo Electric Railway Line Sumaura-Koen Station
Takarazuka Hana no michi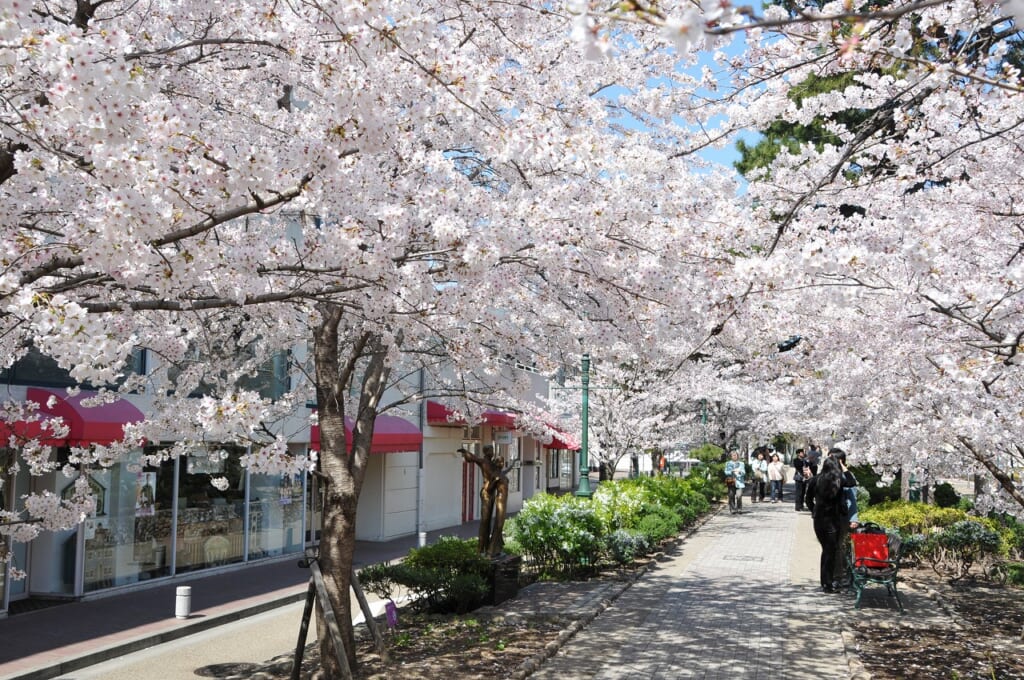 The "Hana no michi" that leads from Hankyu Takarazuka Station to Takarazuka Grand Theatre is filled with cherry blossoms in spring.
The tunnel of cherry blossoms in full bloom looks like a flower path on a stage. It is also popular among Takarazuka Revue fans.
LOCATION INFORMATION
Address
Sakaemachi, Takarazuka-shi, Hyogo [MAP]
Access
Right by Hankyu Takarazuka Line Takarazuka Station
Kokoen Garden
Kokoen Garden is a popular tourist spot when visiting Himeji. This is a Japanese garden with World Heritage "Himeji Castle" in the background. The garden area is large along the southwestern part of Himeji Castle. The gardens are approximately ten thousand tsubos (about 3.5 hectares). Those who come to visit Himeji Castle must not miss out to come and visit this garden.
This garden consists of 9 separate strolling-style gardens of different sizes and landscaping themes in the style of the Edo Period. Various types of gardens such as hills and ponds, tea ceremony gardens, bamboo groves, or flower gardens are designed to allow us to enjoy the beauty of the four seasons in Japan.
LOCATION INFORMATION
Address
68, Honmachi Himeji-shi, Hyogo [MAP]
Access
15-minute walk from Sanyo Electric Railway Line Sanyo-Himeji Station
In Kobe area, there are many spots where you can enjoy cherry blossoms along with nature spots. Please enjoy a moment of spring with your family and friends.