Spring in Japan means "cherry blossoms". Here are some cherry blossom spots scattered throughout Osaka and Kobe.
<KOBE>
Shukugawa Park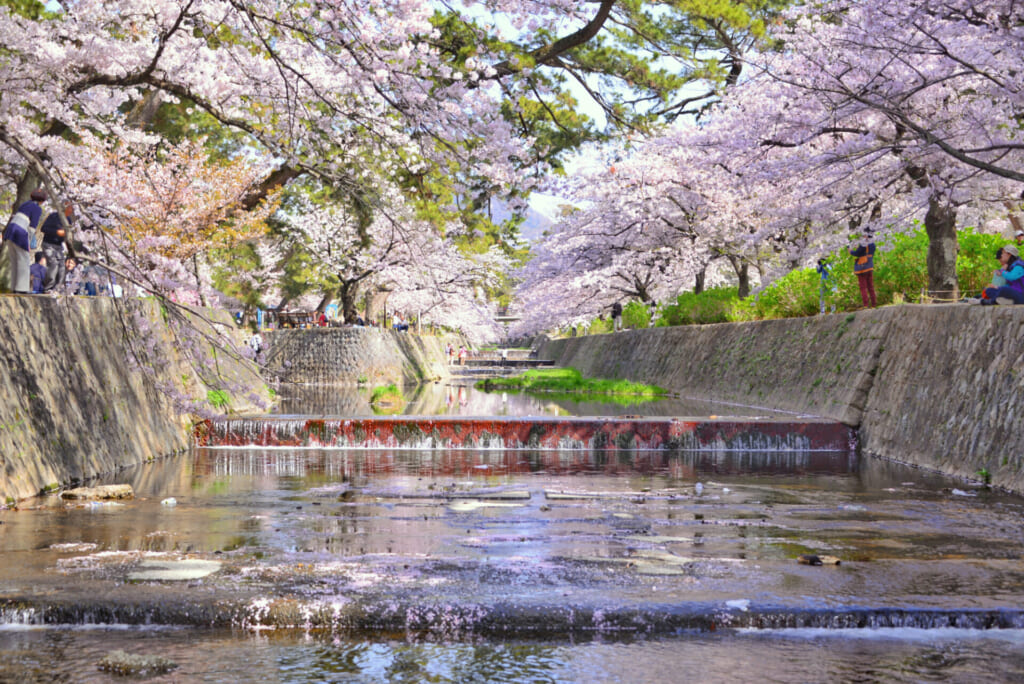 Shukugawa Park has a beautiful view of the cherry blossoms reflected in the river. It has been selected as one of the "100 Best Places for Cherry Blossoms" and is a popular spot for cherry blossom viewing.
The path lined with cherry blossom trees on both banks is a perfect walking course.
You can also enjoy the cherry blossoms from the nearest station, Hankyu Shukugawa Station.
At Hankyu Shukugawa Station, there's a cute bench with a cherry blossom motif!
LOCATION INFORMATION
Address
Miyanishicho, Nishinomiya-shi, Hyogo
Access
Right by Hankyu Kobe Line Shukugawa Station
Oji Zoo
Opened in 1951, Oji Zoo is one of the best leisure spots in Kobe where parents and children can enjoy a full day of close observation of animals.
Oji Zoo is also a great place to enjoy cherry blossoms. There are about 480 cherry trees in the park alone, and nearly 800 cherry trees in the entire Oji Park.
The collaboration of animals and cherry blossoms, including giraffes and elephants, is fascinating. Please enjoy the warm weather and be healed by the animals.
LOCATION INFORMATION
Address
3-1, Ojicho, Nada-ku, Kobe-shi, Hyogo
Access
Right by Hankyu Kobe Line Oji-koen Station
Sumaura Sanjo Yuen Park
Sumaura Sanjo Yuen Park is a popular amusement park for parents and children, where you can enjoy the view of the blue sky and the sea.
You can get there by taking the Sumaura ropeway and gondola. You can see the collaboration of cherry blossoms with Osaka Bay and Akashi Strait.
It is famous as a cherry blossom viewing spot in Kobe. The number of cherry trees in bloom here and there in the park is one of the largest in Kobe.
LOCATION INFORMATION
Address
5-3-2, Ichinotanicho, Suma-ku, Kobe-shi, Hyogo
Access
Right by Sanyo Electric Railway Line Sumaura-Koen Station
Takarazuka Hana no michi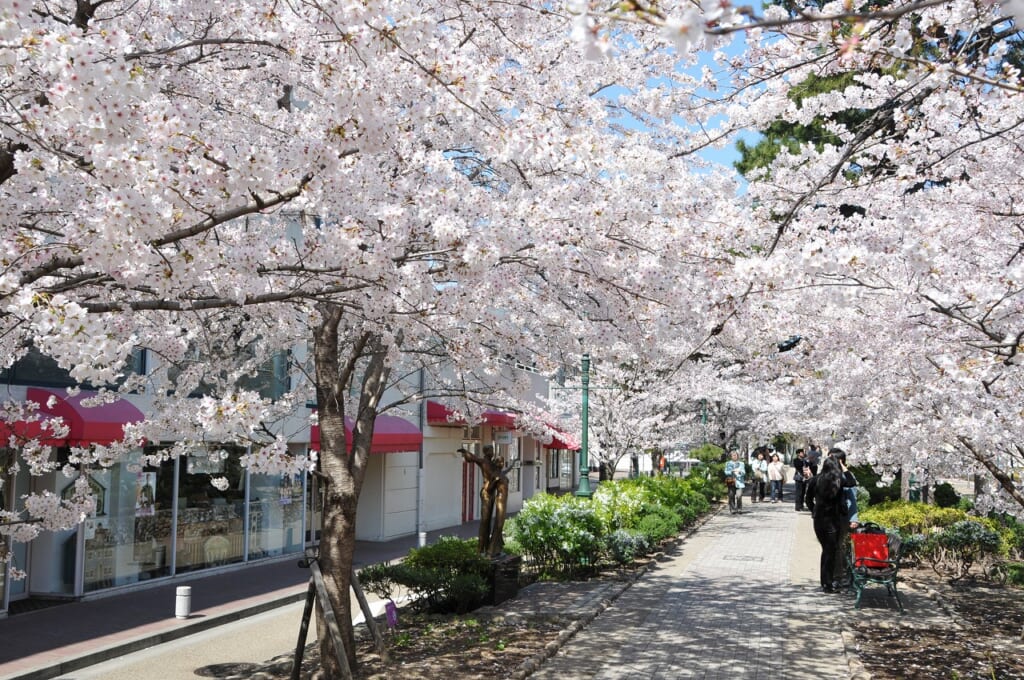 The "Hana no michi" that leads from Hankyu Takarazuka Station to Takarazuka Grand Theatre is filled with cherry blossoms in spring.
The tunnel of cherry blossoms in full bloom looks like a flower path on a stage. It is also popular among Takarazuka Revue fans.
LOCATION INFORMATION
Address
Sakaemachi, Takarazuka-shi, Hyogo
Access
Right by Hankyu Takarazuka Line Takarazuka Station
<OSAKA>
Osaka Castle Park
This lush green park stretches around Osaka Castle and offers a spectacular view of cherry blossoms with the castle tower in the background.
The Nishinomaru Garden, surrounded by important cultural properties, is famous for its approximately 300 cherry trees, mainly Someiyoshino.
LOCATION INFORMATION
Address
1 Osakajo, Chuo-ku, Osaka
Access
20-minute walk from Osaka Metro Tanimachi Line Temmabashi Station
Osaka Sakura Cruise
The "Naniwa Tanken Cruise with Rakugo Storytellers," which offers sightseeing in Osaka City with the entertaining guidance of Rakugo storytellers, will be operated as the "Cherry Blossom Special Cruise" for a limited time in spring.
This is a very popular cruise every year, where you can enjoy the rows of cherry blossom trees that are slightly tinted with spring colors from the surface of the river.
The cruise takes about 120 minutes and you can see the cherry blossoms along the Okawa River.
LOCATION INFORMATION
Address
Minatomachi Port: 1-3-1, Minato-machi, Naniwa-ku, Osaka
Access
8-minute walk from Hanshin Namba Line Osaka-Namba Station
Ikeda Satsukiyama Green Space
Satsukiyama Ryokuchi, located in Ikeda, Osaka, is a popular spot where you can enjoy a free zoo, hiking, barbecues, and playground equipment all day long. On weekends during the holiday season, the park is crowded with families with children and hikers.
From the entrance of the park to the Hinomaru Observatory at the top of the mountain, Someiyoshino and Yamazakura cherry trees are in full bloom everywhere.
LOCATION INFORMATION
Address
2-5, Ayaha, Ikeda-shi, Osaka
Access
17-minute walk from Hankyu Takarazuka Line Ikeda Station
Nose Myoken-no-Mori
Myoken-no-Mori is a play area where you can get in touch with nature, only about an hour away from Osaka Umeda. It is 666 meters long, with a height difference of 223 meters, and can be reached by cable car in five minutes.
While enjoying the cherry blossoms spilling out at eye level, take a walk in the air by cable car or lift. The distant view of the mountain in spring is also a sight to behold.
You can also enjoy barbecues and footbaths on the mountain, making it a great place to go in spring.
LOCATION INFORMATION
Address
Kurokawa-aza-okutakitani Kawanishi-shi
Access
From Hankyu Takarazuka Line Kawanishi-noseguchi Station, transfer over to the Nose Railway Line and go to Myokenguchi Station.
In the Kobe area and Osaka area, there are many spots where you can enjoy cherry blossoms along with large parks and natural spots such as mountains and rivers. Please enjoy the spring time with your family and friends.